What's New on our site
____________________
27 October 2009 - update
• Click here for a new page featuring the eight new Camelot video interviews from the 10-11 October Brussels Conference (see below).
27 October 2009
• At the recent 10-11 October Brussels Groundcrew Conference, we were privileged to talk with Gerald Celente, Ed Mitchell, Stan Deyo, Matthew Stein, Lloyd Pye - and again to Jane Bürgermeister and George Green - all by remote videolink. These interviews are each archived on Ustream, although video quality is not the best, and some of them are hard to find: we will be posting all the links on a new page soon.
The interview with Gerald Celente - editor of Trends Journal - is particularly passionate, energetic and entertaining. We have extracted the audio, which is available here (35 minutes). For a 5 minute extract (well worth listening to in its own right), click here.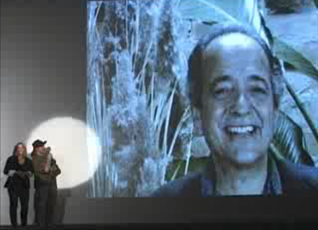 The audio of the other interviews will be published here over the next few days. Enjoy.
26 October 2009
• Click here for Miriam Delicado's LA Conference presentation: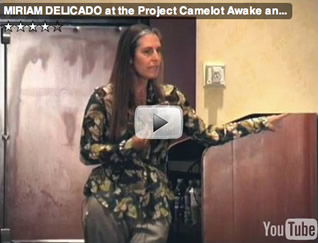 • We have added a tribute page for the highly respected British UFO investigator Tony Dodd, who died earlier this year. Two years ago he contacted Project Camelot with information that was so "hot" that he felt he could not put his name to it, but encouraged us to publish it - warning that it could be dangerous to do so. Click here to read the report, published under the pseudonym John Robie.
7 October 2009
• Our radio show archives have now been [mostly] cleaned up of the commercial breaks - and are all available for free download on our Audio Interviews page.
The quality is highly variable, ranging from unintentional (sometimes very funny) comedy to high quality on-the-spot information, with some marvelous contributions from our guests. Some interviews were extremely good - including (but not limited to) Bill Deagle, Miriam Delicado, Richard Dolan, James Gilliland, Len Horowitz, George LoBuono, Richard Sauder, Michael Tellinger, and David Wilcock. The discussion we had about the Steven Greer video - where I (Bill) interviewed Kerry - was also a very good show, and may be valuable/helpful for some to hear if they've not already done so. Enjoy!
• Bob Dean's LA Conference presentation - in which he again presents and comments on classified NASA images, and is as inspiring, dignified, and entertaining as ever - is now edited and uploaded. Next up will be David Wilcock, and within 24 hours we'll be releasing our interviews with Patrick Geryl [this one only after some consideration: see 5 October opposite] and Dr Paul LaViolette - soon followed by Jordan Maxwell's epic interview. Please be patient: as can be seen, we've been working round the clock to handle the backlog before we travel to speak at the Brussels Conference this weekend.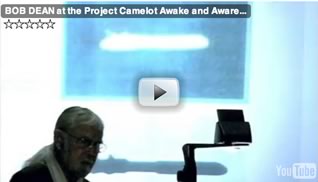 6 October 2009
• Click here for a 22 minute audio interview with Bill Ryan and Kerry Cassidy, recorded by radio host Rebecca Jernigan at the close of the recent Los Angeles Conference. Bill and Kerry talk with Rebecca about the conference itself, the magical process behind the scenes, the growth of Project Camelot, the groundswell of public activism and involvement - and where it may all be going. This wonderful little interview is energetic, animated, and a great deal of fun - and we can't recommend it too highly.
5 October 2009
• Rich Dolan's LA Conference presentation - on his outstanding book UFOs and the National Security State - is now edited and uploaded.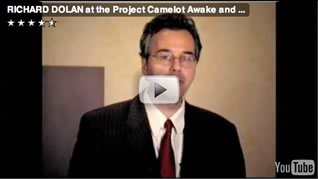 4 October 2009
• Click here for Duncan O'Finioan and David Corso's powerful presentation at the Los Angeles Conference. Duncan can be contacted through his new website here. He and we are aware [see also his 13 April 2009 audio interview here] that there are many hundreds - if not thousands - of others who have been the unwilling victims of the same or similar programs, and Duncan and other colleagues are gathering together a substantial support group. We encourage and support you to contact Duncan personally if you feel you may have something to contribute, or to discover about your own military past which for some reason you cannot remember.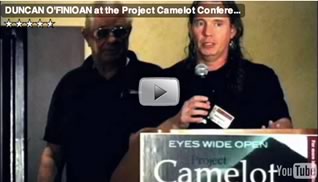 3 October 2009
• Click here for a new page that will feature all the videos from the 19-20 September Los Angeles Conference in high quality. First up are Alex Collier and Jordan Maxwell. Duncan O'Finioan will follow within 24 hours, and more will be uploaded over the next week.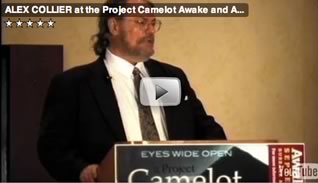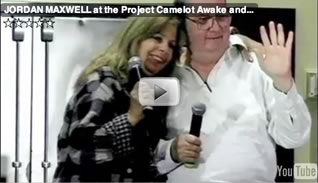 We're currently editing our August interview with Paul LaViolette and the three-hour, in-depth interview of Jordan Maxwell which we did a week ago. Please be patient! We have a great deal of work on at the moment.
21 September 2009

• Project Camelot has just received its ten millionth visitor. The major milestone came within hours of the end of the Los Angeles conference.
10 September 2009
• Click here for a Futuretalk with Henry Deacon (Arthur Neumann), Bob Dean, Alfred Webre, and Bill Ryan and Kerry Cassidy from Project Camelot - recorded at the Barcelona Exopolitics Summit on 26 July.
There is a destiny for the human race in the stars...

--Bob Dean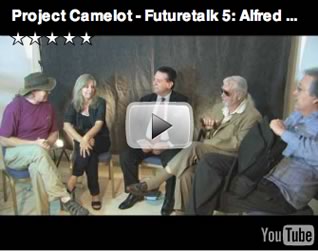 4 September 2009
• "We really need to step things up. We need to step things up as a community. We need to step things up in unity - and make our voices a lot stronger than they have been."
Click here for this 20 minute video message from Miriam Delicado recorded by Kerry Cassidy on 21 August, a few days after Miriam's auto accident (from which she has recovered well).
3 September 2009
• Click here for a short video interview done by Kerry Cassidy with Dr Len Horowitz, when he spoke with Dr Masaru Emoto at the Live H2O event at Laguna Beach in June.
31 August 2009
• Click here for a transcript of Bob dean's Barcelona presentation, which includes links to high-resolution images of all the NASA photos that Bob revealed, and at the end of which Henry Deacon joined Bob on stage to confirm the existence of the Mars base. We encourage you to watch the video to get the true impact of this historical event...Bob Dean at the Barcelona Exopolitics Summit.
For visitors unfamiliar with the Henry Deacon material, one option is to click here for the video conversation with David Wilcock - Jumproom to Mars : highly recommended. Henry has since explained that this device is actually known as The Corridor, and resembles a large goods elevator.
Whistleblower Radio

Our radio shows are on hold for the time being: please see our 24 September update below.

Listen to the archives here.

_____________

Upcoming Conferences
and Events:

• ZURICH:
14 November
David Icke

Post widely! Stand up against tyranny... Gain all knowledge.

In support of the work of

Click on Picture to hear Kerry's songs...

****

TO RECEIVE OUR NEWSLETTER,
PLEASE LET US KNOW YOUR CONTACT DETAILS:

Support Project Camelot
- make a donation:

Thank you for your help.
All donations go to support the work of Project Camelot and Project Avalon.

Please note that donations to Projects Camelot or Avalon are not tax deductible for federal income tax purposes.

***

Support Project Camelot and get the word out...

_____________

A NOTE ABOUT WHISTLEBLOWERS AND RESEARCHERS that you find on these pages:

We, Kerry Cassidy and Bill Ryan, do not necessarily agree with or endorse all of the views presented here. What Camelot is about is the investigation into the mysteries that surround us. We are all, in a sense, investigators of our world. And while we, as individuals, may not agree with everything presented on our site, we fully support freedom of thought and speech as well as the Quest for truth.
--31 December 2008

State of the Planet
The Project Camelot Blog
________________
31 October 2009
• Militia Radio: The Waterman Files, Dr. John Waterman on the state of the militia movement and recent news:
Hi Kerry...
[10/29/09 6:02:49 PM] Waterman: last night a former militia commander from michigan that had moved to kansas had an event in kansas...
[10/29/09 6:03:08 PM] Waterman: several hundred militia rallied and they gov backed down...
[10/29/09 6:03:19 PM] Waterman: don't know if it is over but we shall see....
[10/29/09 6:05:06 PM] Waterman: so things are heating up ... clif high and george ure are on militia radio tonight.... former commanders like myself in allegiance with patriots are now targets.... things are changing here very rapidly...
[10/29/09 6:05:21 PM] Waterman: here is the link.

This show(s) is also worthwhile to tune into for where to write to in order to get Militia Emergency update notification info.. You write to:

PBN
POST OFFICE BOX 194
DEXTER, MICHIGAN
48130 USA

PUT ENVELOPE WITH 4 STAMPS AND $2 WITH RETURN ADDRESS..ASK FOR ECOM CON
Note: We cannot endorse or substantiate the info mentioned on the above link but you might find it useful... We plan to do an audio update with Dr. Waterman sometime this weekend if things go as planned.
--Kerry [back in the USA and reporting from north of Los Angeles...]
30 October 2009
• We were delighted to have received this e-mail from Clay and Shawn Pickering, and are reproducing it here with their permission:
From: Shawn and Clay Pickering
Date: Wed, 28 Oct 2009
To: Project Camelot
Subject: Greer Interview
Hey Bill and Kerry,

Clay and I were thoroughly enthralled with the Greer interview. The issues you brought up are being argued at the highest levels within certain programs. The angst is reflected at all informed policy levels.

I felt Greer was a bit under fire but... hey... this is healthy for all parties involved. How else is understanding gained? By far, this was the best "interaction" in all your interviews. I'm glad to see that Greer kept his composure. True advocacy journalism can be uncomfortable for all parties involved.

Clay and Shawn Pickering
For those unfamiliar with Clay and Shawn, the Pickering brothers are New York-based researchers who were contacted in early 2008 by a US Navy officer - "Source A" - who provided them with details of high-level talks within the United Nations concerning ET contact and disclosure. Click here for a three hour interview with Clay published by the Open Minds Forum in May 2008.
The material - which, if true, could hardly be more important - was of course controversial, and generated considerable debate and discussion. Michael Salla has recently commented on their information here [well worth reading], connecting it with what we learned a few months ago from Dr Pete Peterson, and with a recent statement by David Wilcock on Coast to Coast AM. (Because much of what David has learned has come from Camelot sources, we have of course been watching this unfold with great interest.)
So, Disclosure is in the air. We'll be recording an in-depth audio interview with Shawn and Clay and will release this within 7-10 days. We're fully aware of the importance of this and are greatly looking forward to it - and so may you be. We'll keep you closely informed.
27 October 2009
• A Friend of Camelot, Paul Bondarovski, is the publisher of a new magazine called Dot Connector. It's very high quality in both content and design and in our opinion stands confidently alongside established giants of the alternative reporting field such as NEXUS.
Click on each thumbnail for a full-sized cover. To subscribe, or to write to Paul, click here. This has our highest recommendation.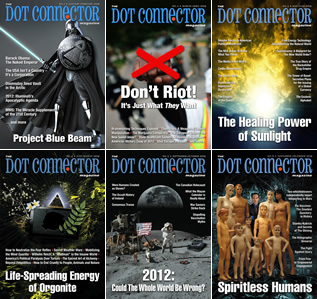 26 October 2009
• In January 2008 we published a page about the infiltration of ET visitors into various arms of the government and military, and the problem that this posed for the authorities of various nations. We named our anonymous source John Robie. His testimony correlated strongly with some information which we had received in our initial interview with Bob Dean.
[Please do read the original report if you're new to this site and have not yet found this little gem of an article. Other specially-written articles and reports are all archived here.]
We feel we can now reveal that our source was the well-known and highly respected British UFO investigator Tony Dodd, who died earlier this year of a brain tumor. He had always suspected that his illness was engineered and was directly related to his work.

We honor him here, and have added him to our Tribute page.


19 October 2009
• Kerry and I have been in Wroclaw, Poland, where we spent 24 hours with Igor Witkowski (researcher of the Nazi Bell - please see our interview with Joseph Farrell for more on this) and yesterday held a six hour workshop. On our way there we interviewed Klaus Dona, an Austrian researcher of ancient artifacts. Look out for a more comprehensive update in a few days' time when we each return to our respective desks and computers.
12 October 2009
• Click here for our three hour, definitive interview in which we present the work of Jordan Maxwell: the researcher and lecturer among us who has shown everyone else the way. Jordan talks with Kerry Cassidy, supported by Bill Ryan and David Wilcock, about major elements of the big picture that he has never spoken about publicly before. We believe this video is most important and we thank Jordan again here for his courage in coming forward to share his experiences and conclusions so plainly with us in the way he did.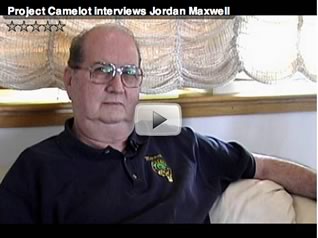 11 October 2009
• Click here for the real-time video streaming of the Brussels conference, which will resume today at 9.00 am (or soon after!) with Jane Burgermeister - speaking from Vienna on a live video link. The day's conference schedule is here.
Yesterday Kerry and I were privileged to do live video linked interviews with Gerald Celente, Stan Deyo, and (with Stephen Bassett) retired astronaut Dr Edgar Mitchell. All three conversations were fascinating, and Gerald Celente - the articulate and impassioned editor of Trends Journal - was highly entertaining. Archives are available on the Ustream page here: scroll down from the top of the page to locate the various links, which (please note) are not necessarily in sequence.
10 October 2009
• The Brussels conference will be streamed live (as before) here - starting at 9.30 am Central European time. Click here for the conference schedule and full details. (Subject to change! Jane Burgermeister has flu... Bill Ryan and Kerry Cassidy will be on first, and there's quite an impressive line-up.)
8 October 2009
• Today we are publishing three major new videos:
• Patrick Geryl
• Dr Paul LaViolette
• David Wilcock's important two-hour presentation 2012: The Road to Camelot at the recent Awake and Aware in LA Conference.
Visitors who have followed Camelot's work for a while will understand why we have released these videos simultaneously. They complement each other well, inasmuch as they offer very different views of the near future of Planet Earth.
Our written introduction to Patrick Geryl's interview is the longest we have ever drafted: it was necessary, for reasons that will be apparent once you turn to that page. Dr Paul LaViolette is more measured, but his work is extremely important and has to be taken seriously: and last but not least, David Wilcock offers an inspired and altogether different view of how we may not have such a rough time ahead of us as others may believe.
It would be trivial for us to say 'enjoy'... but you may appreciate the emotional and intellectual challenge, as we did, when considering the content of these three videos together.
• Some visitors are still reporting strange problems with the audio and video downloading. Please bear with us and send us your error reports with as much detail as possible.
• This weekend Kerry and I will be in Brussels, where there is an impressive line-up of contributors at David Turley's CREATING A NEW PARADIGM Conference. We are speaking on both days. And the weekend after that (18 October), we will be with our friends in Poland.

5 October 2009
• Our server move is complete. All videos and audios should now download fully and without interruption. Again, we apologize for the longstanding problems in this area. Please do report any continuing bugs to us so we can troubleshoot them immediately.
Thanks again to everyone for your patience. Once you have the files downloaded (and don't miss our audio interviews page as well as all our videos and the material from the recent LA conference) - we think it will be well worth while.
• We're both working round the clock at the moment before traveling to speak at the 10-11 October Brussels Conference. We plan to release our interviews with Patrick Geryl and Dr Paul LaViolette together - because the latter presents a measured, cautious balance to the apocalyptic former. And we've also nearly finished editing our recent three hour interview with Jordan Maxwell - which, we tell you now, is dynamite: especially in the second half, when Jordan really tells all.
These three videos offer alternative visions of the future. Patrick Geryl's opinion is so cut-and-dried - and quite devoid of hope! - that he was interviewed (not by us) in conjunction with the very alarming Sony Pictures disaster movie, 2012. This will be the first video we've ever published which includes our disclaimer that while the interview presents interesting information, and that we have nothing against Patrick Geryl personally, we firmly believe his conclusions to be incorrect.
We actually debated between ourselves whether to release it at all - though it's a civilized and intelligent conversation, and Patrick Geryl is a perfectly well-meaning researcher. We'll write more on this later when the video is released, which should be later this week.
When these new interviews are published, we're thinking of launching a new page which will feature all the material we have which focuses on the 2012 issue. While Camelot is about far more than this single item, such is the attention now being focused on this date (partly because of the new movie) we feel a responsibility to assemble what we have in one place for ease of access and comparison. We may do this with other topics too... we're well aware that as our site has grown over the last three years, the material on it is now extremely extensive, wide-ranging, and sometimes not that easy to navigate. [Note to new visitors, however: the search box at the top of this page is the most effective we've ever encountered. Do use this!]
--Bill
3 October 2009
• Kerry and I will be speaking at the 10-11 October Brussels Conference - next weekend. We look forward very much to meeting old and new friends there.
Ticket prices have been reduced to 50 euros (15 euros for students) - which is quite a bargain for the two days. All details of tickets and location are available here.

• Many have reported incomplete downloads of audio and video. This has been caused by our server being unable to handle the demand - for which we apologize. We're within days of upgrading to dedicated high-speed servers with far more bandwidth, and will let you know immediately the change is made.
1 October 2009
• Here's a short two-minute clip of our friend Stephen Bassett speaking about Disclosure, recorded in July at the Barcelona Exopolitics Summit speakers Panel, moderated by ourselves. Entertaining, animated, and totally to the point. Enjoy :)
Steve is currently on a speaking tour of Europe: click here for details. Notably, he'll be at the Brussels conference on 10-11 October, and in Zurich on Tuesday evening 13 October.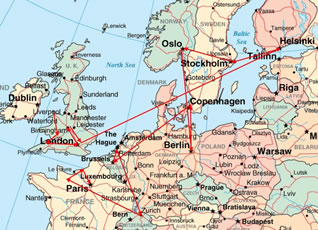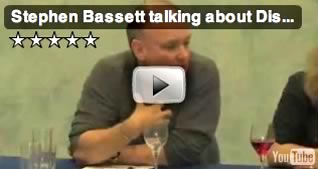 • More links to the Pantone GEET engine (see 30 September update below):

www.geet.nl/news-uk.htm
www.freeenergynews.com/Directory/Geet
30 September 2009
• Many people have written to ask for links to the modified engine that operates on 20% fuel and 80% water - which was very effectively demonstrated at the recent Barcelona and Amsterdam conferences. This site is an excellent resource. We can confirm that the motor works exactly as described, and the technology is simple in concept. The website is in German (with automated English translation) but three of the four embedded videos are in English. We do urge people to check this out: modifications can be made in a basic workshop with no exotic materials involved. This really does work.
27 September 2009
• Many thanks to everyone who's written to us telling us how valuable and interesting they found our radio show. This feedback has encouraged Kerry and myself to focus on how we can dialog with our audience in real time while presenting up-to-the-minute news and information - uninterrupted by commercials, with the timing, scheduling and audio quality determined by ourselves. You may see us on air again before not too long, in a slightly different format. We very much appreciate all the support and helpful suggestions.
• Yesterday we conducted a most important three hour interview with Jordan Maxwell, who took the brave step to reveal on camera to us information he has never before presented publicly. The interview was spectacular: Kerry pulled out all the stops and afterwards was so exhausted she was almost ill. I (Bill) was impressed, and told her so. When at the top of her game, Kerry is one of the most gifted interviewers in the world.
At the end of the interview, Jordan, who had also given it everything he had, felt quite emotional. There was a small audience, including David Wilcock, and all present were moved and captivated. This one is very, very good. We will release this absolutely as soon as we can.
• To close, I'm writing this on the plane back to Europe. I'd like to thank all the many friends, old and new, whom I met and talked with personally during the last two weeks. It was a most valuable trip. Next up is Brussels on 10-11 October (Kerry's air fare being generously covered by the conference organizers), followed by an interview with 'Nazi Bell' researcher Igor Witkowski in Poland. Somewhere in there we'll be editing our interviews with Paul LaViolette and Patrick Geryl, and releasing all the video from the Los Angeles Awake and Aware conference on YouTube in high quality. We also have one more interview, which we'll release in transcript form, which may be quite a surprise to many. We have quite a lot going on at the moment and are working 24/7 to make all the information we have fully available.
24 September 2009 - update 3
• We've made the decision to stop doing our experimental bi-weekly radio program. Recent shows, with every kind of glitch and problem, had become rather an unintended comedy - although this was genuinely appreciated by some. We will now re-focus on in-depth audio interviews uninterrupted by commercials, and produced by ourselves in such a way that we can fully control the scheduling, content, length and quality.
24 September 2009 - update 2
• Bookmark this site on legitimate vaccination exemptions... which could be useful for later.
24 September 2009 - update
• Look at this: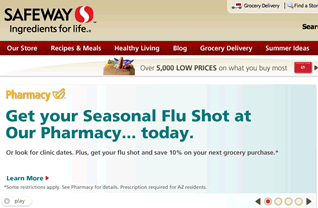 "Get your flu shot and save 10% on your next grocery purchase."
Thanks to Dr Len Horowitz and investigative journalist Sherri Kane for bringing this to our attention. Please see www.fluscam.com for more information.
Dr Horowitz was spectacularly knocked off the air when in the middle of discussing this and we have not yet been able to re-establish contact.
24 September 2009
• With reference to the item that was posted here earlier, Jordan Maxwell has let us know that the situation in which he found himself will now be resolved amicably. We are delighted.
22 September 2009
• Hot on the heels of the extremely successful LA Conference this weekend, Kerry and I will next be speaking at the Brussels Groundcrew Conference on 10-11 October.
Click on the thumbnail below for a large image. It's quite a line-up - and there may be one or two more surprises based on the success of the LA conference itself. We salute David Turley's Brussels team for the speed with which they have made this happen.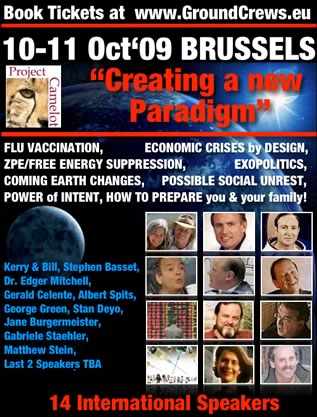 21 September 2009 - update
• We're getting a few messages from visitors who were unable to locate Jordan Maxwell's presentation. It's here - and is quite excellent. Must see. Alex Collier's presentation is here... also outstanding.
21 September 2009
• The Project Camelot Awake and Aware Conference in Los Angeles seems to have been a very significant success. Archived unedited live video streams of all speakers - including rare, high quality presentations from Alex Collier, Jordan Maxwell, and Duncan O'Finioan (with David Corso) - are available here. Scroll down the page for a full list. Enjoy.
20 September 2009
• Jordan Maxwell has joined Alex Collier in accepting our invitation to speak Sunday (today) at the Los Angeles Awake and Aware Conference. Tickets are available at the door, from 7.30 am onwards.
Sunday's revised timetable is: (approximately!)
8:30 am – Duncan O'Finioan
9:30 am – Bill Ryan and Kerry Cassidy
11:30 am – Alex Collier
1:00 pm – LUNCH
2:30 pm – Jordan Maxwell
4:00 pm – David Wilcock
6:00 pm – CLOSE
19 September 2009 - update
• We've received permission from Alex Collier to announce that he will be speaking at the Los Angeles Awake and Aware Conference tomorrow, Sunday 20 September. Be there. Tickets are still available at the door, from 7.30 am onwards. Alex will be speaking at 11.30 am.
19 September 2009
• Click here for free live video streaming from the Project Camelot Awake and Aware Conference. The streaming will probably start at 8.30 am Pacific time. For a conference schedule, click here - subject to change for all kinds of reasons which you will understand.
This continues to be an experiment... please let us know how well it is working.
17 September 2009
• We're sufficiently concerned about this potentially very important YouTube video to have reposted it on our own account with full tribute. It shows a very brave young woman reporting what she's just learned about plans for roadblocks in California. She shows documentation, and a photo of a device made by Cejay Engineering. Please read the full YouTube accompanying text which provides important context and more information.
For those researching this information, note that Greg Evensen has recently posted a retraction about a recent statement he made. We continue to gather information and are seeking further sources.
Looking at the big picture, it's clear that Highway Patrol Officials, Police Departments, State Troopers, National Guard, and Military Personnel - all over the US - are being covertly trained and prepared for something, which seems to be coming soon. The question is what...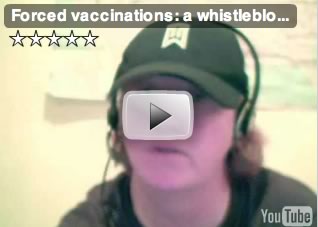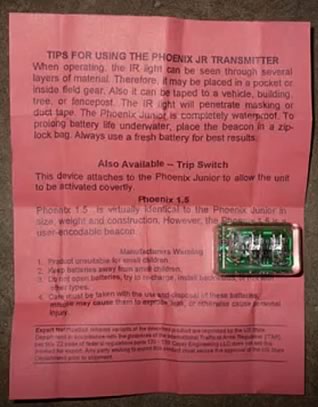 16 September 2009
• We read this new report, written by Dr Alfred Webre, with great interest. In it he compares in some detail the experiences described by whistleblower Andrew Basiago with those put on record by Arthur Neumann ('Henry Deacon').
Both men claim to have spent time on Mars as part of highly classified, advanced programs incorporating 'Jumproom' technology - in essence a type of stargate. For references, see our video Jumproom to Mars or our recently published Futuretalk with Alfred Webre, Arthur Neumann/ Henry Deacon, and Bob Dean.
Two points here:
1) Many people have written to ask if we know of the information reported by Andrew Basiago. We do know Andy, and are very familiar with the extraordinary story which he recounts in great detail. We've spoken with him off-record for many hours, as long ago as January 2008. We made this brief reference here - in our major articles 2008: The Future is Now and 2009: a Tale of Two Timelines - to a small part of his testimony:
One source, which we have not yet reported, has told us that on 5 November, 1971, using a device called a chronovisor, the US Supreme Court Building in Washington, DC, was observed "under about a hundred feet of brackish water". We do NOT know the date of the event which was observed here, nor what the incident was determined to be that had caused this event.
This was Andy Basiago. We'd love to record his experiences on a Camelot interview and only logistics and finances have prevented us from getting together to do this.
2) Arthur/Henry has asked us if we would make a statement that he did not work for the NSA - as reported mistakenly in Alfred's new article.
• Dr Alfred Webre is speaking about Mars, Jumprooms, time travel, and other topics at the Los Angeles Awake and Aware Conference this coming weekend.
--Bill
13 September 2009
• We wrote on 9 September, below, about the Project Camelot Los Angeles Awake and Aware Conference this weekend:
We now have Jordan Maxwell attending, and he will be introducing Bob Dean, his very good friend. Dr Bill Deagle will also be there - and there may be some potentially extremely important surprises. Furthermore, we already know that there will be unnamed whistleblowers in the audience.
One of the 'extremely important surprises' has just confirmed that he will be speaking. We are excited and delighted - but apologize for not being at liberty to release his name, as per his request. However, those of you who are psychic may know who this is...
Click here to reserve your ticket for the event.
• We have had many messages reporting curtailed downloads of audio and video files from our site. The problem seems to be that the load on the system causes there to be temporary interruptions - after which the download is not continued. Click here for a solution. Please let us know if it works!
11 September 2009
• Last weekend I (Bill) was speaking at a large event in Poland, organized by the popular and well-respected alternative researcher and journalist Janusz Zagorski. His website is in Polish, but some scenes of the event can be seen streaming from his online TV portal.
I was impressed with the energy and awareness of the Poles. On the first day, I spoke for an hour and a half... and then after that found myself talking for nearly three more hours to a focused and intelligent group of 30 people who had every question one might ever imagine. I followed this up the next day with a packed four hour workshop for over 120 participants.
We're looking forward to our next visit, when Kerry will be in Europe next month - and when Janusz will arrange an interview with the Nazi technology researcher Igor Witkowski (see our Joseph Farrell interview for more information).
• On return, I passed through Austria - where I sought out and met with Jane Burgermeister. (Yes, she's real, and yes, she really is in Vienna). Moreover, she is feisty, determined, passionate, articulate, and totally authentic. Click here for the 50 minute video interview, and Enjoy.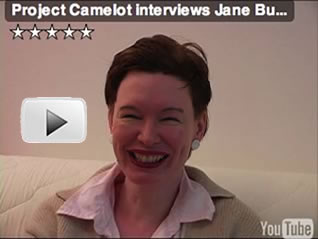 9 September 2009
• DONATIONS NEEDED for for promoting the Project Camelot AWAKE & AWARE in LA conference to the general public.
$2,000 will enable us to advertise in the LA Times and communicate with the widest possible audience. This is the way to reach people who would otherwise never encounter this material. Please click on any PayPal button on our site: you're not just doing this for us, but to help educate many more people about the vital subjects that will be addressed at the conference.
We now have Jordan Maxwell attending, and he will be introducing Bob Dean, his very good friend. Dr Bill Deagle will also be there - and there may be some potentially extremely important surprises. Furthermore, we already know that there will be unnamed whistleblowers in the audience.
This is quite a historical gathering of great minds and spirits with a huge amount of information to share. Don't miss this. It could be a conference like no other.
Click here to buy tickets now. Advance ticket price is $150.
6 September 2009
• Dr Pete Peterson interview links for Part 3 to download from site are now fixed.
• Site is loading better today--thanks to our hosting service KWD Services, Karl & Dave.
4 September 2009 - update
Dr Pete Peterson interview is now fully live. Part 3 is now online and available.
The site may be slow to load at the moment... because of the heavy traffic.
4 September 2009
• Click here for the long-awaited release of our interview with Dr Pete Peterson. The publication was delayed because Dr Peterson was concerned that it might contain some material that was just too sensitive, and which might endanger us. He spent some time checking with colleagues to ensure that we would be safe to release the material. At the time of writing, he has not specified what these sensitive parts of the video are - though one might guess. We have taken the decision to take these risks upon our own shoulders and to release the interview in its entirety. It has not been cut.
We hope that those who have been waiting this for what feels (to us also!) quite a long time may understand the complexities and many factors involved, and that being a whistleblower is far from a simple matter. Dr Peterson is a man of high integrity who is very concerned about some of the problems faced by the human race, and who to his immense credit feels that he must give a warning. Besides the warning, as you will see, he offers a substantial smorgasbord of fascinating information on a very broad range of subjects.
Note: at the time of writing Dr Peterson is currently scheduled to speak at the Project Camelot Awake and Aware Conference in Los Angeles on 19-20 September. Don't miss this.
Enjoy the interview...
--Bill Ryan
--Kerry Cassidy
--David Wilcock
3 September 2009
• FEMA Ads: You gotta love the recent ads on the FEMA 'get ready' site https://www.ready.gov.
• Meanwhile, back at the ranch :-) Our Awake & Aware Project Camelot Conference needs someone fairly expert to handle ADVERTISING AND PR FOR THE CONFERENCE. Send your CV and interest to:
• JAGUAR BAND - needs keyboards and guitarist... send email to Kerry at the above address with BAND in the subject line if you are interested in playing the conference. First listen to songs by clicking on the RIGHT COLUMN PIC of me from ReverbNation...
• On Whistleblowers: And yes, we are planning to release the Pete Peterson interview Friday. One thing everyone needs to understand is that this whistleblower, and a few others, are still working for the PTB (Powers-that-be, for those who need the translation).
How can a whistleblower still be working for the Man? Easy, they are playing both sides... Their hearts are in the right place. Their reasons are complex. They may for instance be working for the good guys (or white hats) within the Matrix... They may be thinking that the dark side is losing and they are planning to defect or they may believe in a cause such as National Defense.. It's not all black and white. Think of it this way: if you work for a company, any company, you see its flaws but you need the paycheck or you support what their overall mission is... yet you may hate what they do to obtain the upper hand in the game (such as lie, kill and maim).
Like it or not, a whistleblower from within the Matrix is in many ways treading a tightrope. They want to stay alive but they want to warn you, enlighten you or even save you... It's a matter of degree as to how far they can go before they reap consequences they may regret.
On the outside, our situation isn't much different. We get the truth out there and risk whatever blowback may come. In the end you lay your bets and you take your chances.
--Kerry
Click here for ARCHIVE 1
October 2007 - 19 August 2008
Click here for ARCHIVE 2
23 August 2008 - 11 December 2008
Click here for ARCHIVE 3
12 December 2008 - 14 March 2009
Click here for ARCHIVE 4
15 March 2009 - 14 May 2009
Click here for ARCHIVE 5
20 May 2009 - 20 July 2009