Jim Keith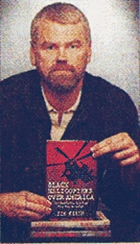 Researcher Jim Keith died at Washoe Medical Hospital on September 7, 1999, during surgery to repair a broken knee he suffered after falling off the stage at the Burning Man Festival in Black Rock, Nevada. Doctors stated that a blood clot was released during the surgery and travelled to the heart, causing a pulmonary edema.

The author of many challenging books - including The Octopus, Mind Control, World Control, Black Helicopters over America, OKbomb!, Saucers of the Illuminati, Casebook on Alternative 3, Secret and Suppressed, and Casebook on the Men In Black - Keith was extremely worried before he was admitted to hospital, and had confided to a friend that he was afraid he would never be released alive.

Readers of his many books mourn Jim Keith, who also had a long pre-internet history of circulating his research through small press magazines such as Dharma Combat and Notes from the Hangar. Following his death, speculation about Keith's "accident" became rife. After Keith's death, the state of Minnesota cancelled all knee surgery for a brief period after three patients died: and Cryolife, a tissue bank outside of Atlanta, Georgia, was found to have supplied cadaver tissues tainted by a form of clostridium bacteria - the same pathogen which had killed Ron Bonds.

This is the kind of coincidence chain that raises the eyebrows of many researchers. Add to it that in his 1999 biowarfare book, Biowarfare in America, Keith wrote about Larry Harris, who was arrested by the FBI for anthrax possession in 1998. According to Keith, Harris claimed that an attempt had been made on his life with a needle containing a cobra venom which could induce blood clots in the lung. And Keith had previously written at length in Fate magazine about the CIA's warehousing of a large supply of clostridium bacteria... the same bacterium which was to kill himself and Ron Bonds.