William Cooper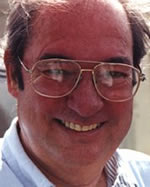 William "Bill" Cooper was a radio host, author and political activist most known for his 1991 best-selling underground book Behold A Pale Horse, and his worldwide shortwave radio show Hour of the Time. Cooper was also well known for his court battle with the IRS and the recorded attempts to dissuade him from pursuing his case, as well as the related CAJI News Service brief titled BATF/IRS – Criminal Fraud where he alleges a history of crimes committed by the Internal Revenue Service, Bureau of Alcohol, Tobacco and Firearms and the Department of the Treasury. He had also produced several documentaries covering subjects such as the John F. Kennedy assassination and government "black projects".

Throughout the late 1980s, Cooper was a controversial figure in the UFO research community. He followed many of the claims of John Lear: specifically, that the US government has had contact with and has entered into treaties with extraterrestrials which are, in fact, responsible for abductions. He circulated materials on Usenet as well as the old Paranet BBS, notable among them being a Petition to Indict those involved with the UFO cover-up. His UFO beliefs of the time are well described in Behold a Pale Horse.
Cooper was shot dead on November 5, 2001 during a gun battle outside his Arizona home with Sheriff's Deputies, at the age of 58.

Det. Valenzuela stated that Deputies from the Apache County Sheriff's Department were attempting to serve an arrest warrant upon Cooper. According to Valenzuela, Police had intelligence that Cooper had a large quantity of weapons in his home, and possibly explosives. Valenzuela also said the police knew that during his radio show on WBCQ, Cooper repeatedly stated that he "would kill any law enforcement officers that tried to take him." As such, the Sheriff's Department wanted to arrest Cooper away from his home, so as to minimize the possibility of armed conflict.

According to Police, Cooper lived on a hilltop over looking several undeveloped areas and other homes below. Despite not owning the land below his home, Cooper was known to chase teenagers or young lovers off the land and Police decided to use this to lure Cooper away from his home. Det. Valenzuela stated that two undercover Sheriff's Deputies were sent in a pick-up truck to the area below Cooper's home. There were also two uniformed Deputies in the bed of the pick-up. As expected, Cooper drove down to that area from his home and told the two undercover Deputies to leave.

However, Cooper left and drove away toward his home before the undercover deputies could do anything. While on his way back up the hill, a fully marked Sheriff's patrol vehicle blocked the road (1) in front of Cooper. Uniformed members of the Sheriff's Department SWAT Team (2) exited that marked vehicle and told Cooper to stop, keep his hands where they could see them and exit the vehicle. They say Cooper placed one hand outside his window, then accelerated around the police car, trying to run over a Sheriff Sergeant. Police gave brief chase to Cooper's home.
Police say Cooper exited his vehicle, drew a handgun and began firing at Deputies as he ran toward his house (3). One Deputy Sheriff was struck at least once and possibly twice in the head (4). Another Deputy returned fire, hitting Cooper several times.

The wounded Deputy was evacuated by Helicopter to a hospital in Phoenix. Cooper was pronounced dead at the scene by Paramedics who were at the scene standing by (5).
The following questions from this incident suggest that Cooper may have been set up:

(1) Cooper would have had to pass the marked Police patrol vehicle while going down the hill. Why would he do so without seeing it and fleeing? Further, how could he drive around it once it came onto the road while Cooper was en route back to his home?

(2) If Police intended a peaceful, non-violent arrest, why send a SWAT Team?

(3) Cooper had lost one leg in combat many years previously. How could he run so fast?

(4) If Cooper drew a gun and fired "while running back toward his home" as police say, how could he hit a Deputy once and possibly twice in the head? A head-shot is a difficult thing to accomplish with a hand gun, never mind two head shots while the shooter is running.

(5) Why were Paramedics "on the scene standing by" if Sheriffs intended this to be a peaceful arrest?

Shortly after the bombing of the Alfred P. Murrah federal building, Rush Limbaugh read a White House memo on the air during his broadcast which named William Cooper, "...the most dangerous radio host in America". This may have been related to claims that Timothy McVeigh regularly listened to Cooper's radio program. Cooper considered President Bill Clinton's pronouncement the greatest compliment that he had ever received.

Cooper had made it known that he would take action against law enforcement from years back, stating "trespassers will be shot on discovery." Cooper had a history of harassing and threatening local residents with deadly force, according to the report, although he also denied violating any laws. Nevertheless, he had recently been charged with aggravated assault and endangerment, as well as being wanted by the US Marshall's Service on unrelated felony charges. Cooper had spent the last month challenging the government's claims about the cause of the destruction of the World Trade Center on September 11, two months before his death.

For a 90 minute video of the compelling and dramatic lecture in which Bill Cooper first announced his most contentious and potentially important claims regarding UFOs and the secret government, visit https://video.google.com/videoplay?docid=-4574387786893863155.